Episodes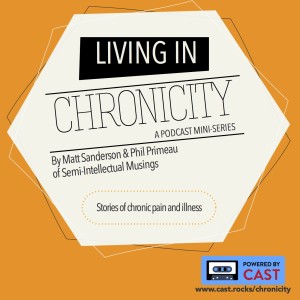 Wednesday Apr 18, 2018
Wednesday Apr 18, 2018
There comes a moment in time when the things that we could once do, the things that we did easily and without much effort, become more difficult. Maybe even impossible. It is in those moments that the reality of what chronic pain and illness can do to the body and mind becomes apparent. The experience of the first episode or attack is now interwoven into a web that has transformed our lives. This episode tells the stories of first encounters with what would become a chronic pain or illness. The act of remembering pain and illness, however, is not linear: the past becomes the present, and the future is a mixed bag of unknowns. Living in chronicity entails loathing time, but also cherishing it more than anything else. Like a stich, both time and our bodies have begun to unravel.
We thank everyone who lent their voice to make this episode:
And special thanks to Amy and Tracy who are good friends of the show and fellow podcast lovers.
---------------------------------------
---------------------------------------
---------------------------------------
Email us: semiintellectual@gmail.com
---------------------------------------
If you are thinking of suicide, know someone who is, or want information on mental health services available in your area, see the short list of resources below: